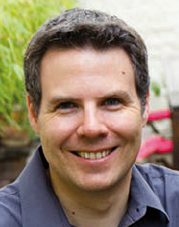 Susanne Aschoff (Innovation Großformatdruck Magazine) interviewed Axel Stuhlreiter, Head of Product Management, from A. Berger GmbH, specialist for digitally printed textiles, stage and event fabrics, about the use of recycled polyester in digital printing.
Please describe the process of manufacturing recycled yarn?
Recycled polyester is mainly made from PET beverage bottles. There are two methods of recycling PET: mechanical or chemical. In the more common (because cheaper) method, the mechanical method, the bottles are cleaned, reduced and shredded into polyester chips, which then go through the traditional yarn production like normal polyester. With chemical recycling, the PET is returned to its original components and can then be processed like normal polyester.
Contrary to popular belief, plastic cannot be recycled infinitely, because whenever the material is heated, it loses quality. It is therefore a finite process and not a real 'cycle'.
What do you think makes recycled material more sustainable than non-recycled material?
Recycled polyester is the first step towards recycling, i.e. from a waste product, in this case PET beverage bottles, become a recyclable material that can be used to produce new products. This will prevent a recyclable material from ending up in a landfill or, in the worst case, in our environment. Precisely because plastics do not rot, this is certainly an important approach. In addition, the production of recycled polyester requires approximately 59 percent less energy and an estimate has shown that CO2 emissions are reduced by 32 percent compared to normal polyester. Looking at fossil resources, the use of recycled polyester is another approach to reducing our dependence on oil a little.
Where are the differences between materials with and without recycled yarn?
Basically, textiles made from "normal" polyester yarn do not differ from textiles made of "recycled" yarn. Only the whitepoint of the fabric can distinguish something from a "normal" polyester, since the recycled raw material – PET beverage bottles – often have a green or blue coloration. Although the material is bleached again during the production process, this is not always 100 percent successful.
Does this have an impact on printing or on the print result?
Of course, the white point of a material influences the color result of the print. However, since each material is usually profiled and has its own color profile, possible deviations can be corrected here.
Is recycled yarn suitable for all applications or does it need to be specially pre-treated/ do other inks need to be used?
Recycled yarn is no different from normal polyester yarn. Of course, pre-treatment – equivalent to normal polyester – must be carried out for the different types of printing.